Buying a bed that's right for you
Bed Buyers' Guide
You spend a third of your life in bed, so it's vital that you make the right choice. Shop smarter by following these helpful tips:
Try, try and try it again!
There is no substitute for lying on mattresses when selecting the right one for you. You wouldn't buy a new car without taking it for a test drive first – and you'll be spending even more time in your bed! So wear comfortable clothes, remove your coat and shoes and lie on the bed for quite a long time – at least 10 minutes (preferably more). Adopt your normal sleeping position and lie on your side as well as your back.
Shop Together
Always shop together if the bed's for two, to ensure you are both happy with your choice.
Give yourself enough time
Set aside enough time to do the job properly. Don't shop when you're tired or rushed – you run the risk that the beds will all feel wonderful.
Make sure you have the correct support
Correct support depends on your weight, height, build and even preferred sleeping position. Ideally the mattress should mould to the shape of your body while remaining supportive. When you lie on your side your spine should be horizontal. You should be able to turn fairly easily. As a general rule, the heavier you are, the firmer the tension you will need. You don't necessarily need a hard bed if you have a bad back (see section 5 for more information).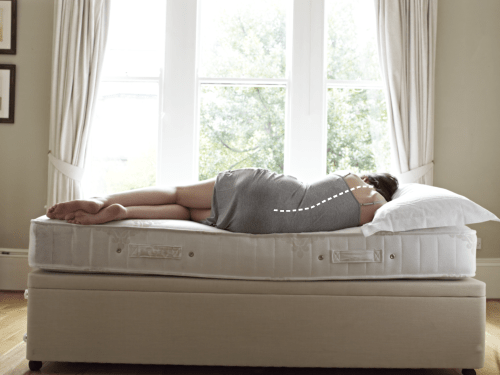 Too Soft
Body slouches; spine out of alignment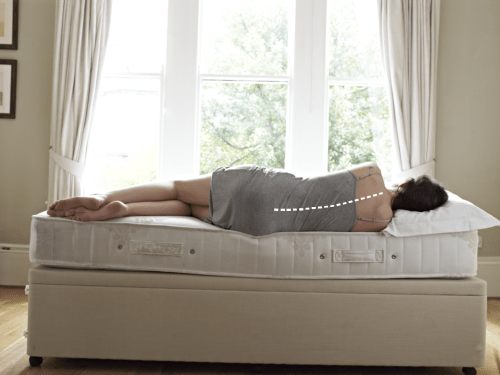 Just Right
Support and give follows the body's profile, keeping the spine aligned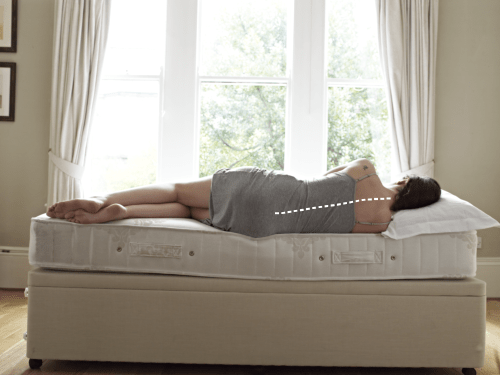 Too Hard
Body is not relaxed; tension and pressure points
Choose the bed that's right for you
Comfort is very subjective. Some people like the sensation of being cocooned in a bed; others prefer to lie on top of them. Back sleepers may like a firmer feel than people who sleep on their sides. There are lots of different "feels" around – you can choose what works best for you.
One size doesn't fit all
For partners of widely differing size and weight (3 stones/18kgs or more), different mattresses may be required. Some manufacturers make double beds from two single mattresses zipped together, which can be of differing tension. Others can combine different degrees of firmness in one mattress.
Try different mattress options
Most manufacturers will offer mattresses in firm, medium and soft options. Try different options to be sure which is best for you. Remember there is no industry wide standard to compare firmness ratings from one manufacturer to the other.
Test how firm the bed is
A good way to check if the bed you are lying on is too soft, too hard, or just right is to lie on your back, and slide your hand in the hollow of your back. If it slides in too easily, the bed may be too hard for you (leading to pressure on your hips and shoulders); if it's a struggle to slide your hand in, then the bed is probably too soft. If you can move your hand with just a little resistance, the bed may be just right for you.
Look for the NBF Mark of Approval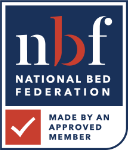 For added reassurance that the bed or headboard you're buying is safe, clean and honest ie it is what it says it is, then look for the Approved logo. All members of the trade association, the National Bed Federation (NBF), must be independently audited to ensure they follow the procedures that comply with flammability, health and hygiene and trade descriptions regulations.
Buying a bed online?
Shopping online has become a part of our everyday lives and it's certainly here to stay. It's often more convenient than shopping on your local high street, easier to compare prices and you may also find some products online which are not available in the shops. However make sure you check delivery costs as online retailers can have different rules on returning goods so establish their terms and conditions before starting your shopping.
If you are going to buy a bed online, then here's our top tips for shopping securely online:
Watch our video on how to buy your bed online
Choose reputable shopping sites. If you haven't heard of the company, search for them on shopsafe.co.uk which lists only shops that offer secure credit card transactions, clear delivery prices and returns policies.
Ensure you are satisfied that the product descriptions you are given are true and accurate – you can't look inside a mattress!
Buying a mattress online may be cheaper and more convenient but there are drawbacks to not being able to see and touch items. That's why the Consumer Contract Regulations 2014 give you extra protection. For more information visit which.co.uk
Check sellers' privacy policy and returns policy.
Check the website has full contact details, phone numbers etc.
Is there any indication of country of origin?
Stick to reputable brands made by NBF Approved members. You can also check with them that they do regular business with that retailer.
Ensure the website is secure before entering payment details.
Remember a really cheap offer is cheap for a reason and you might not get what you bargained for!
Watch our video on avoiding internet rogue traders