Bed Bases Explained
Bed Buyers' Guide
Most mattresses are used in combination with one of various choices of bed base: such as divans, bedsteads, adjustable beds and bunk beds. Remember to ensure that mattress and base are suitable for use together, especially if you are buying them separately.
Divans
Divans are still the most popular style of base in the UK. They are essentially an upholstered box, fitted with castors for mobility or on legs to create space beneath. These days there are many beautifully tailored and upholstered bases with matching headboards offered in a range of colours and fabrics.
There are three main types of divan: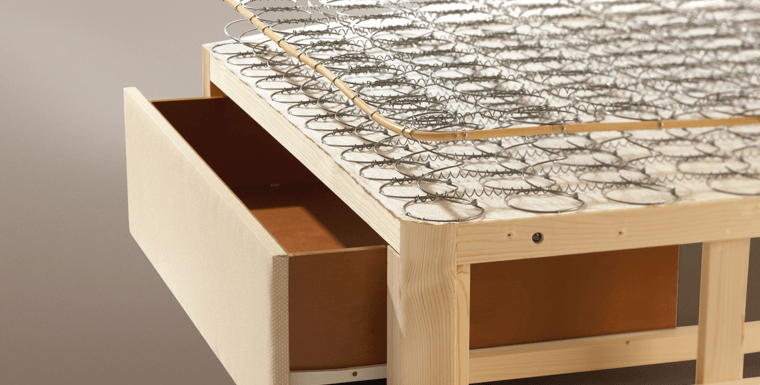 Sprung edge divans
The most luxurious option and feature a complete open coil or pocket spring unit mounted on a frame which acts like a giant shock absorber, increasing the mattress's durability.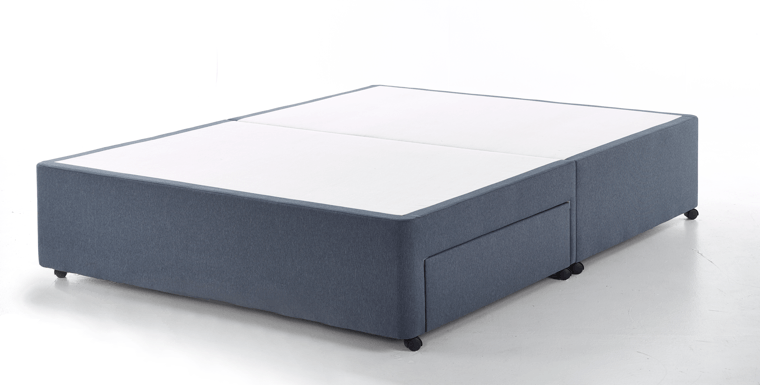 Solid or platform top
These have a rigid, non-sprung top panel, often made from hardboard. Beds with these bases are generally firmer, as well as cheaper than beds with sprung bases.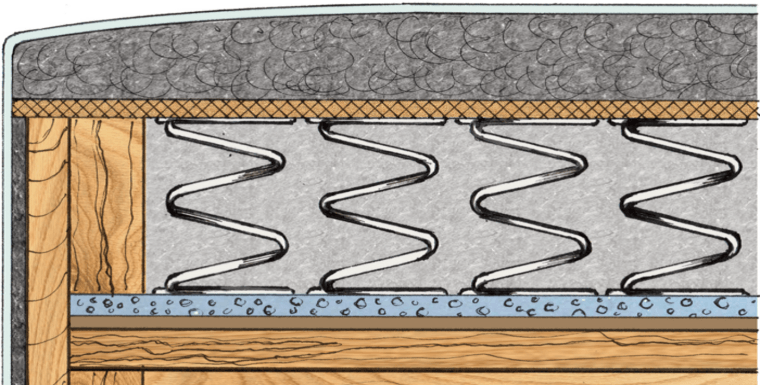 Firm edge divans
Generally feature a smaller number of larger, heavy duty springs within a rigid, wooden sided frame.
A divan is useful if you're tight on space as most are available with drawers or lift-up storage, known as ottomans. Storage need not affect the comfort or quality of the bed – but it does cost a little more.
Slatted Bases
Slatted bases are mostly used with bedsteads. These can be either rigid (with no give) or flexible, also known as 'sprung'. Flexible slats are made from laminated wood and are mounted in a frame, using plastic slat holders. They create a modest level of springiness from their bowed shape. On more sophisticated models, the tension of slats in the lumbar area can be adjusted to suit individual requirements.
It is important to ensure the slatted base is compatible with the mattress you choose to use with it. There are many different suppliers of slatted bases with differing specifications of slat widths and the space between each slat. Mattress manufacturers should provide their own recommendations for slat spacing and slat widths to suit their particular mattresses so we strongly advise you to check these before buying as they can vary. Using a mattress on an incompatible base will invalidate your guarantee.
Will I notice a difference between the two types of slatted bases?
Not only are they likely to feel different – rigid slats will give a bed a firmer feel, but they will affect the durability of the mattress. Rigid slats have no give and work against the mattress, leaving it to do all the work. Flexible slats work with the mattress and will prolong its life and improve comfort levels.
Bedsteads
Bedsteads come in a vast array of styles from traditional classics to more modern designs and are available in wood, metal, plastics, upholstered or any combination of these.
Your choice will largely be an aesthetic one but bear in mind mattress support. This could be fixed or sprung slats or a metal grid or rigid woven wire. It is also possible to have a fully sprung bed base (with the same benefits as a divan) inside. A number of manufacturers make these to order.
Always make sure you try mattresses on the type of base your chosen bedstead has.
As many bedsteads are imported or antique they may not conform to current UK standard sizes so take care to ensure your mattress and bedstead are the same size!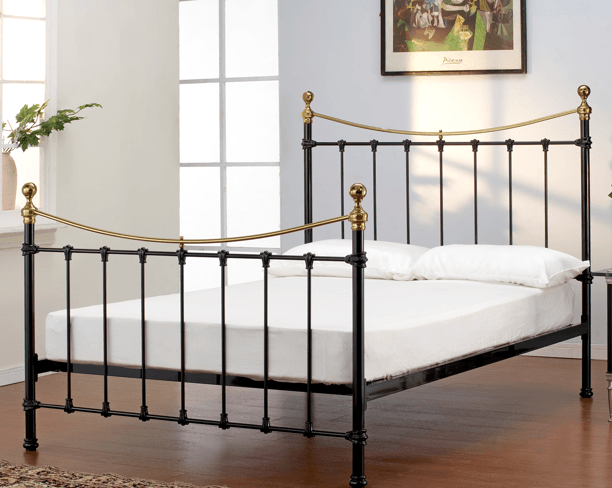 Adjustable beds
Adjustable beds are becoming increasingly popular as the bedroom becomes a multi-functional space. As well as reading or having breakfast in bed, people now watch TV from their beds and spend time on their laptops and mobile devices. Of course, adjustable beds still offer many benefits for a range of medical complaints requiring a raised sleeping position or raised legs or aid getting in and out of bed.
Styling choices range from a traditional divan look right through to contemporary bedstead designs. Some even incorporate massage units as an optional extra.
Available as single beds or as doubles with individually adjustable halves, these beds either feature flexible laminated slats or fully sprung upholstered sections. Some models have five or more individually adjusting sections – for neck, head, upper body legs and feet; other models might just adjust the head and feet; or even just the upper body. Some models are designed to slide backwards as the head end comes up, thus keeping you in more convenient contact with your bedside table! Others fit side table which can be moved along side rails.
Mattresses are specially made for adjustable beds so ideally the base and mattress should be bought together. It's a good idea to make sure that any electrical parts are separately guaranteed and fully compatible with UK systems.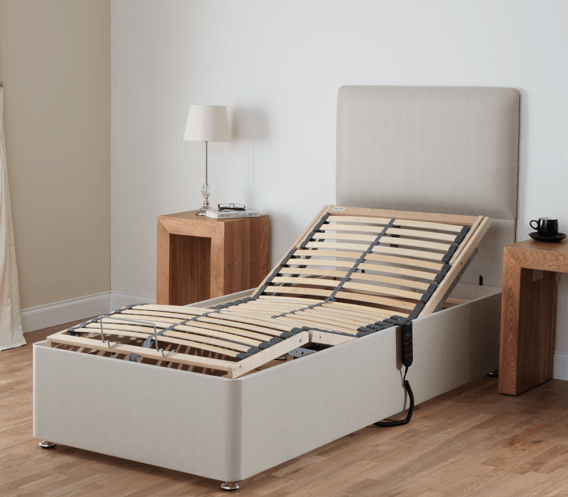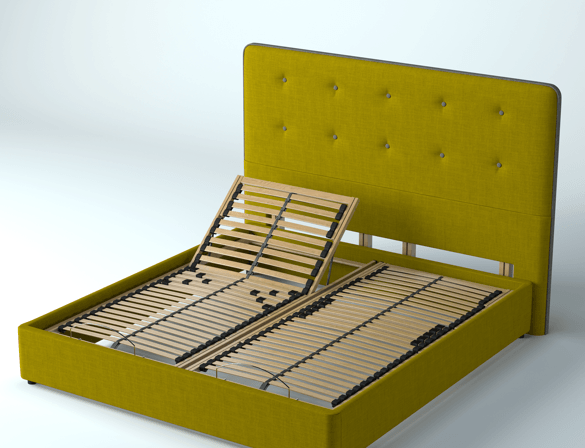 Bunk Beds
Bunk beds and cabin beds are a popular option for parents and children. They are fun as well as practical and space-saving. Our Good Night Guide for Children contains more information about bunk beds and sleep tips for youngsters. Visit www.sleepcouncil.org.uk for more information.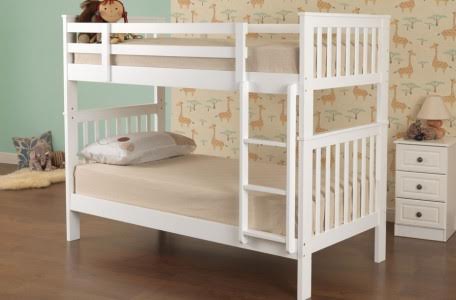 Headboards
Headboards have grown in popularity and can create a focal point in any bedroom.
They are usually an optional extra to give you more choice but these days often coordinate with the divan base.
Like most things in the bedroom, your headboard acts as a style statement and will be a dominant feature, so it's worth doing a bit of research before you buy one.
You should think what fabric you like, whether you want a simple rectangular design or a more lavish padded design and how the colour choice or pattern will blend in with the rest of the room.
All of the different materials and designs have their own merits. For example, upholstered headboards give you more comfort where wooden headboards can give you sturdiness.