NBF Member: Handy Ltd
NBF Certificate Number: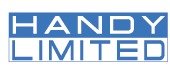 Suppliers of large range of components to the mattress manufacturing industry, including tufting tapes, rosettes, felt washers, ventilators, divan linking, name plates, side saddles, headboard bolts, inserts, T-nuts, bolts, glues, castors, wooden/chrome leg, foam profiles, woven tape edge, button components and machinery. Ottoman mechanisms, staples/hog rings and staple guns. Handy Ltd is also the UK agent for Simalfa (water based glue system) and Tricover (stockinette producer).  Sole distributors for Astor Berning GmbH suppliers of buttons for covering and button covering machinery, Handy Ltd is constantly adding new products to its already extensive range and would be pleased to consider any customer's specific enquiries.
Telephone
Sales Department - 0208 805 8050
Email
enquiries@handyltd.co.uk
Website
www.handyltd.co.uk