NBF Member: Redwood TTM Ltd
NBF Certificate Number: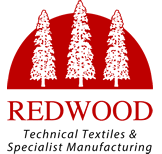 As specialist fabric manufacturers, we take great pride in our products and services. Through constant development and innovation we can provide clients with ever improving products and service. Using cutting edge technology and a dedicated British support and sales service, we are committed to exceeding client expectations. We also work towards international and national legislation requirements which help us continually improve performance and ensure that we meet all our customer's specifications. By combining our manufacturing expertise and the sourcing of only the best materials, we can guarantee the quality and excellence of our high performance textiles and products. Please browse through our website for more information about any specific area which we cover, from the highest grade medical uses through to retail bedding products. If you need any further information about the products and services, please contact us here at Redwood on 01695 553830 or email
info@redwood-ttm.com
.
Email
mailto:info@redwood-ttm.com
Website
www.redwood-ttm.com