Frequently Asked Questions
So how can you be sure that you are going to buy a mattress that is everything it says it is?
Simple: buy a product made by an Approved NBF Member.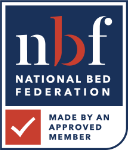 Bed Buyers Guide
Get advice and help to find your perfect bed and a great night's sleep.

Why Buy NBF Approved Brands?
Buy with confidence, knowing that what you're buying is SAFE, CLEAN and HONEST.

Find a Retailer
Retailers who support our aims and predominantly stock beds and mattresses made by our members