Your day starts and ends in the bedroom so it should be a space of relaxation and calm.
And we're not just talking how to decorate your bedroom but how to organise and maximise space – no matter what size the room is – so that it's clutter-free and everything has a proper place. Life is chaotic and stressful enough without it being brought into the bedroom. You don't want to be tripping over junk on the floor or staring at piles of laundry.
In fact, a study, conducted by New York's St. Lawrence University, revealed that a messy bedroom can lead to a poor night's sleep and increased anxiety.
If you want some organisation tips and bedroom ideas for at home check out the below:
Decluttering Tips for the Bedroom
Don't use the bedroom as a dumping ground for the rest of the home. It's not an extension of your living room or utility room. Piles of laundry, books, and the 'treadmill-come-clothes rail' should be removed.
If your bedroom is filled with junk, set aside some time to tidy it properly and reorganise. Remember the bedroom is a place to rest and relax.
Remove work-related items too. if you have a computer, work desk or paperwork in your room, get rid – this is not where they belong.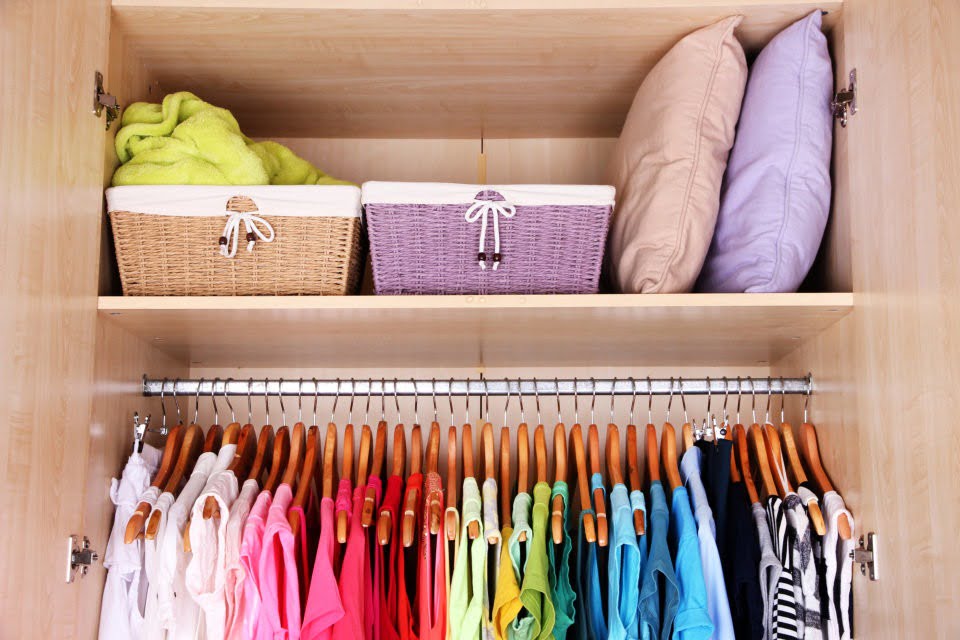 Organisation Ideas for The Bedroom
Use space under your bed wisely. Underbed storage is a perfect way to maximise space because it is not visible, but still very easily accessible. You can use baskets, special underbed boxes or even choose a divan bed with built in drawers or ottoman style (where the base lifts). Perfect space for shoes, off season clothes, holiday attire, luggage and gift wrap.
Don't clutter bedside tables with ornaments, books and picture frames and pick ones that have more than one drawer for additional storage of clothes or personal items.
Organise the wardrobe. Throw out clothes that are don't' fit or haven't been worn (if they're in good nick, send to the charity shop), and organise into a system that works for you i.e. colours, items, seasons or occasions.
Maximise wall space with clever shelving for books or sentimental knick knacks etc
Use a laundry basket for dirty clothes rather than the floor! Ideally keep it out of the bedroom but if not choose one that matches the décor of the room and is fairly discreet.
Keep the bed tidy. The heart of the bedroom is the bed and a cluttered one does not scream out for you to hop into it for a good night's kip. Make your bed every morning and don't over do it with pillows, cushions and throws which can start to look messy.