With the rising cost of living, it's tempting to pick up a bargain wherever you can, whether that's heading to the reduced area in the supermarket or getting a deal on a mattress that appears to be too good to be true.
But this Scams Awareness Month, we're warning shoppers to be wary of rogue traders selling beds and mattresses, which we know are "big buy" household items and a real investment.
Unfortunately, mattress scams have been around for a while, and rogue traders are getting savvier at passing off old products as something new, moving from the traditional white van scam to dodgy online deals. Read our tips on how to buy a bed safely online.
How to spot a fake mattress
At best, a mattress sold by a rogue dealer will contain a new, basic spring unit with a polyester fibre pad or a layer of cheap foam over it, all covered in a cheap outer covering material. At worst, the mattress may contain an old, used spring unit with dirty fillings. Some of the worst cases we've come across are where the rogue trader has placed an old mattress inside a brand-new cover and passed off the product as new!
Unless you're buying from an established retailer – in-store or online – that has genuine contracts with bed manufacturers, you can't really be sure you're getting a genuine mattress, unless you're cutting it open! You can look at the stitching around the sides as a starter, but most people are unaware of shoddy, old or dirty fillings.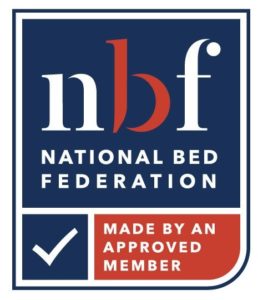 It almost certainly hasn't been tested to see whether it meets the UK mattress flammability regulations and fake flammability labels are easy to buy.
Always look for the NBF Approved label for added reassurance. The National Bed Federation (NBF) independently audits its members to ensure they meet all the requirements for hygiene, safety (including flammability) and trade descriptions, and they can use this label on their products. The NBF also carries out random testing of member products to ensure compliance.
Signs to look out for:
– Dodgy dealers often drive a white or silver van with a company name sign written on it and wear a company polo shirt. 
– Some even have company names that are very similar to well-known mattress brands or bed retailers. 
– They may provide you with a written receipt and give you their business card, all fake but look credible. You will probably find that the phone numbers provided ring out when you try calling them.
– Remember: a reputable trader would never try to sell door-to-door or from the back of a van.
If someone in a van selling mattresses approaches you, politely decline and try to take note of any details – company name, a phone number and a registration plate number – and then report to Citizen's Advice Consumer Service on 0345 4040 506.
Find your nearest NBF Retail Champion that stocks reputable NBF approved member brands.