In a recent poll of 2,490 people carried out by home interiors specialists Hillarys to discover what household product consumers most regretted buying, 29% of respondents said it was their mattress.
The top five most regretted purchases were:
Mattress 29%
Sofa 25%
Coffee machine 19%
Kitchen gadget 15%
Virtual assistant (Google Home, Alexa etc) 11%
The main reason given for the mattress being the most regretted purchase was that it was 'too uncomfortable' – the same reason given for sofas. The survey also revealed that 89% of the respondents currently have items in their homes that they regretted purchasing.
So how do you go about making sure that you choose the right mattress for you?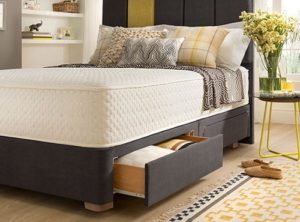 If you're replacing your bed or mattress, think about what you liked about the current one when you bought it. Make a note of the make, the model and the size so you have a benchmark to start from. It may be that you would prefer a slightly softer one or maybe you can fit a larger bed into the bedroom. Bigger beds mean less partner disturbance, resulting in fewer awakenings and a more refreshing night's sleep.
Never buy a mattress or bed without trying it out first – even if it's just for ten minutes in a bed store. As an alternative to buying in-store, there are now a number of 'direct to consumer' mattress brands that offer a trial period of up to 100 nights where you can simply have your mattress collected if it's not right for you.
Generally speaking though, if you're buying a bed for you and your partner, ensure you shop together. If you have vastly different preferences for firm or soft support, ask about dual density mattresses or zipped mattresses where, for example, a softer version of a mattress can be zipped to a firmer version as long as they are the same make and model.
Make shopping for a new mattress a special trip – you'll choose more wisely if you're not in a rush, tired or harassed. Dress sensibly and comfortably so that you can lie down properly on a selection of beds in your normal sleeping position without feeling too embarrassed. It's worth taking your usual pillow with you as the incorrect pillow height can make choosing the right mattress even more difficult.
If you're just replacing your mattress, ensure you try the mattresses on a similar type of base to the one you have at home. The base can make a big difference to the feel of a mattress – a sprung base offers gentler support whereas a slatted base or solid top base offer firmer support. Slats can also be flexible, offering softer support than the more rigid type of slats. So make sure you know what type of base you have at home so you can make an informed decision.
Spend as much as you can comfortably afford. Remember that even a £1000 mattress or bed works out at about 40 pence per night over a seven year period – that's just 20 pence each if you share your bed. What other household item do you have that gets as much everyday use as your bed?
Finally, be careful who you purchase from, especially if you choose to buy on the internet. Do you know which company is making the bed and can you be confident that the claims made on the product are true? You can't look inside a mattress so you have to take the claims at face value.
That's why choosing a product that's been made by an Approved NBF Member gives you peace of mind that what you're buying is safe, clean and honest. If you're in any doubt about the product you're thinking of buying, you can contact us at the National Bed Federation and we'll try our best to help.