Did you know that your head weighs 4.5-5.5 kilos (10-12lbs)? And that your neck contains seven of the spine's 33 vertebrae? Did you also realise that neck pain, back pain and even persistent headaches could simply be the result of poor pillow support while in bed sleeping?
A good pillow should hold your head in correct alignment – that is, in the same relation to your shoulders and spine as if you were standing upright with the correct posture.
If your neck and shoulders don't get sufficient support, or are propped at an angle that causes twisting, craning, or crunching, this puts your spine and body out of alignment, leading strain and discomfort in your neck, shoulders, and back, as well as sleeplessness.
As with your mattress, comfort and support are both important in selecting the right pillow. The best pillow for you is one that feels comfortable to rest your head on, and supports your head, neck, and shoulders and matches your mattress.
As with shopping for a new bed, you should try out different types of pillows before making your final decision. If possible you should try out the pillow (or pillows) on a bed similar in feel to your own bed, where you can lie down on your side. Ask someone to check if your neck and upper back are in a straight line. The pillows should be tucked well into the neck and shoulder to support the head fully.
Remember, it's fine to sleep on your back or sides but if possible avoid sleeping on your tummy, which puts a lot of strain on your neck as it is permanently twisted throughout the night.
It is a matter of personal choice whether you prefer to achieve the correct head and neck support with one or more pillows – but they should be able to retain their shape and give you constant support throughout the night
Pillows come filled with synthetic fibres, foams or down and feathers. The most popular are the polyester filled type – available in a variety of feels from very soft to very firm – and a broad range of prices. Better quality polyester pillows can be machine-washed. Branded fibres are often an assurance of quality.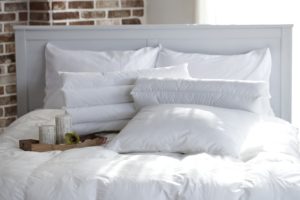 Down/feather pillows offer a luxurious give and excellent durability. Many also wash very well. The softness – and cost – will go up in proportion to the percentage of down it contains. Check on the type of feathers used: the highest quality are goose down, followed by duck down. Chicken feathers are straight and have to be artificially curled – a treatment which eventually wears off.
The casing will be important too: the weave must be very fine to prevent feathers working their way through. Check labels carefully for quality assurance and beware: some people can have an allergic reaction to down or feathers.
Wool pillows are naturally hypo-allergenic, and resistant to mould and dust mites. They wick away moisture and can be effective at helping regulate your temperature during sleep, keeping you warm in the winter and cool in the summer. Wool pillows have a tendency to be firm but if you want the benefits of wool with a softer feel, look for ones with alpaca wool.
Latex foam pillows tend to be firmer than polyester or down with a definite bounce to them. They hold their shape very well, are long-lasting and are considered hypo-allergenic. Memory foam pillows also tend to be on the firm side with less bounce than latex but offer excellent pressure relief.
Specially moulded neckcare pillows are usually made from memory foam or latex – and are often intended for use in conjunction with another, softer pillow. The price range is again broad.
Some pillows even contain 'mini-pocket springs' encased in either memory foam, latex foam or polyurethane. They keep their shape very well and are claimed to offer excellent ventilation, keeping the user's head cool during the night.
Also available are lumbar support pillows, usually made from polyester of down, to prop you up comfortably in bed.
Pillow dimensions can vary too – although the standard size is between 71-74cm x 46-48cm (28-29in x 18-19in). You may prefer the square, continental style pillow, 65 x 65cm (26in square).
Because pillows affect your sleeping posture and lie next to your skin and your nostrils, it is a good idea to invest in quality pillows and replace them at least every two or three years for a healthy sleeping environment. When they have lost their 'loft' (height) and become lumpy, discoloured or misshapen they are definitely ready for replacement. Remember, an old, unwashed pillow could also contain as much as 10% of its weight in skin scale mould, dead and living dust mites and their allergen laden droppings!