So, you have decided you need a new bed, you have even taken the Bed MOT to be sure, but do you buy in-store or online? Is one better than the other?
During the height of the pandemic, when so many bricks and mortar retailers had to close, we made a beeline for the internet and used our phones and computers to research new beds and retailers, "adding to basket" in just a few clicks from the comfort of our own home. 
But, despite the convenience of having the bed world at our fingertips, there is no substitute for kicking off your shoes and testing lots of different beds, accompanied by an in-store expert to guide you around the variety of beds available. You wouldn't buy a new car without taking it for a test drive first – and you will be spending even more time in your bed!
So, what are the best shops to buy a bed?
There are lots of retail outlets to choose from, and the whole process can often seem overwhelming when you just want somewhere that offers quality products. 
You want to know your new mattress is safe (complies with regulatory requirements for flammability), clean (the fillings are new and not old and used) and honest (does what it says it does), right?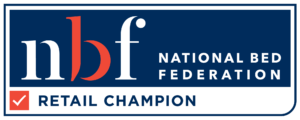 We created the Retail Champions Scheme to help you find retailers that stock these reputable and safe bed products. These retailers of all sizes across the UK and Ireland stock beds made by NBF approved brands. NBF approved brands have undergone rigorous and independent testing to ensure their products are reputable and made to the correct standards. Conveniently, members display the NBF tick of approval badge on their products, so keep an eye out for this in-store!
NBF stockists near me
Find your nearest Retail Champion using our dynamic postcode search listing on the website. You can expand your search radius, and your nearest retailers will be listed and shown on the map. You can also use the tickbox to filter your search results for Premier Retail Champions only (retailers who stock 100% NBF approved brands).
Planning your visit
Once you have found your nearest reputable retailer or retailers – you might want to visit a few! – clear your diary and set aside enough time to do the job properly. Don't shop when you are stressed, tired, or rushed, as you will run the risk that all the beds will feel wonderful!
If the bed is for two, always shop together to make sure you are both happy with your choice. Bring your pillows to help mimic your familiar home surroundings – unless you plan to buy new pillows.
Your visit
Wear comfortable clothes, remove your coat and shoes, and lie on the bed for quite a long time – at least 10 minutes (ideally more). Adopt your normal sleeping position and lie on your side as well as your back. You should be able to lie side by side, with your arms behind your head and your elbows out, without touching.
Although some online retailers offer home comfort trials (look for this if you do want to buy online!), testing in-store means you can try lots of different levels of firmness under one roof, and you'll get a good idea of how firm you prefer your mattress to be. 
Most mattress manufacturers will offer firm, medium and soft options, so try a variety to know which is best for you. Remember, there is no industry-wide standard to compare firmness ratings from one manufacturer to the other. Read more about how to test the right firmness for you.
Testing in-store means you will also get a chance to experience different bed sizes. Test bigger options if you can, as you are more likely to sleep better when you have more space – especially if you are sharing with your partner. If your current bed is a UK double, this only gives each person the same space as a child has in their cot!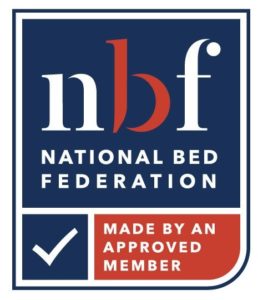 In answer to the first question, it is important to note that there is nothing wrong with buying online. Lots of our Retail Champions offer online options or are 100% online, and provide free comfort trials, just ensure you avoid those dodgy online dealers. 
Ultimately, the best thing you can do when buying your new bed is to buy from a reputable NBF approved bed brand. Buying an NBF approved product means you can sleep easy at night knowing it is SAFE, CLEAN AND HONEST. Now that is comforting.