We are often asked where's the best place to buy a new bed. There are a huge number of retail outlets to choose from – national bed-specific retailers, small niche independents and general furniture stores – and the whole process can often seem overwhelming when you just want somewhere that offers quality products.
But now we have the answer. Look for the Retail Champions on our website so you can spend more time sleeping and less time shopping!
It's never been more important to offer added reassurance to the products you're buying, due to the increasing number of low quality online sellers and door-to-door mattress salesmen preying on unsuspecting and vulnerable customers with what appears to be heavily discounted mattresses.
When you buy a new mattress you want to know what you're buying is safe (complies with regulatory requirements for flammability), clean (the fillings are new and not old and used) and honest (does what it says it does).
Our Retail Champions initiative aims to raise awareness among bed shoppers of the rigorous and independent testing carried out on NBF members to ensure their products are reputable and made to the correct standards.  All or members display the NBF tick of approval badge on their products.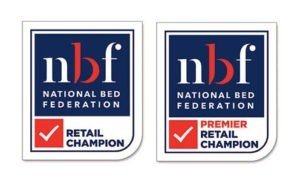 More than 250 retailers have signed up to the initiative around the country. There are two levels to the scheme:
Retail Champions: those who source at least 50% of beds from NBF members
Premier Retail Champions: shops which sell only NBF member beds will be awarded Premier status.
Bed Retailers Near Me
The first step in the bed buying journey is finding a retailer. Our dynamic postcode search listing on the website now directs you to your nearest Retail Champions. Just type in your location, select the search radius and press 'search' – easy! Your nearest retailers will then be listed and shown on the map. You can also use the tickbox to filter your search results for only Premier Retail Champions.